Dr. Jordan Evans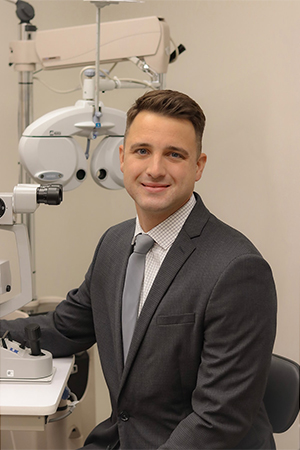 Dr. Jordan Evans serves as an Optometrist at Riverside EyeCare Professionals. A member of the American Optometric Association, he is a 2019 graduate of the University of the Incarnate Word Rosenberg School of Optometry in San Antonio, Texas. He also holds a Bachelor's Degree in Human Physiology and Biomechanics from Brigham Young University in Idaho.
Dr. Evan's clinical credo can be reflected in the words of Dr. Russell M. Nelson, a renowned heart surgeon: "The duty of a doctor, primarily, is to teach. A doctor is really functioning at his highest level when he is teaching his patient what is wrong and what can be done about it." Dr. Evans defines his career by this philosophy, striving every day to make sure that his patients feel heard and understood while providing the best care possible.
Dr. Evans is well-versed in the treatment of many ocular diseases, including macular degeneration and glaucoma. He also treats vision deficiencies, such as refractive error using glasses, contact lenses, and specialty lenses, such as scleral lenses. In addition, he is knowledgeable in refractive eye surgery.
While not in the office, Dr. Evans enjoys a variety of outdoor activities, such as hiking and camping with his wife and three sons. He also enjoys basketball, soccer, and running the many trails throughout Redding.
No matter your individual vision needs, Dr. Evans can help you determine the best course of action. To schedule a consultation with Dr. Evans, please contact our office.