Dr. Michael Sumsion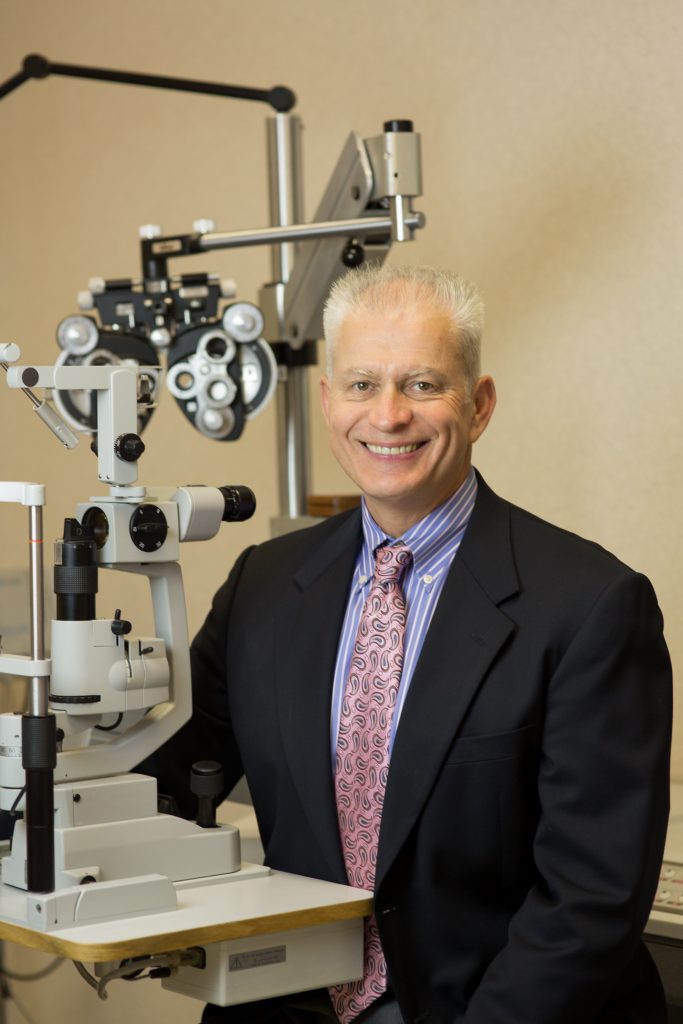 Dr. Michael Sumsion is a Board-Certified Ophthalmologist serving the Redding community for over 20 years. He has practiced in Redding since 1990, and in an effort to provide a higher standard of care he opened Riverside EyeCare Professionals in the fall of 1997. During his professional career, many individuals of all ages have benefited from his excellent vision care.
To learn more about Dr. Sumsion and get information about how to choose the right board-certified ophthalmologist for your surgical and non-surgical eye care needs, please explore the sections below:
Education
Dr. Sumsion attended the University of Utah Medical School and performed his Ophthalmology residency at the world-famous Mayo Clinic.
Experience & Specialty Training
Dr. Sumsion specializes in Cataract surgery and LASIK surgery, as well as providing comprehensive medical treatment for a wide variety of eye conditions. He has performed thousands of Cataract & LASIK procedures and is the comprehensive eye care leader in the Redding community. He remains dedicated in providing the latest and most effective eye care solutions in order to maintain the high level of care our patients have come to expect.
Professional Memberships
Dr. Sumsion is a member of the American Society of Cataract and Refractive Surgery, the American Medical Association, the American Academy of Ophthalmology, and the California Academy of Eye Physicians and Surgeons.
How to Choose a LASIK or Cataract Surgeon
The decision to undergo LASIK or cataract surgery is significant, and prospective patients should take some time researching prospective surgeons to find the best one for their needs. Dr. Sumsion recommends reviewing each surgeon's credentials, including board certifications and areas of specialization. Patients can also see which professional organizations they are affiliated with to help determine the surgeon's activity within the medical community.
Questions to Ask Your Cataract or LASIK Surgeon
The following questions may help you better determine the suitability of a potential LASIK or cataract surgeon:
Are you a board-certified surgeon?
How frequently do you perform LASIK or cataract surgery?
What is the success rate of your procedures?
How current is the technology used during the procedures?
Are your lasers routinely serviced and maintained?
Are there prior patients I can speak with to learn about their experience?
At the end of your conversation with the prospective surgeon, you should feel comfortable and confident in their ability to care for your safety and achieve the results you desire.
Importance of Board Certification for Ophthalmologists
Ophthalmologists are eye doctors who specialize in the diagnosis and treatment of medical eye conditions. When choosing an ophthalmologist who is board-certified to perform LASIK or cataract surgery, patients can be assured that their surgeon has advanced skill and expertise. Board-certified ophthalmologists have undergone extensive training beyond what is required for standard licensing—typically 4-6 years of additional education. The American Board of Ophthalmology (ABO) is the longest-running medical specialty board in the United States, recognized by the American Board of Medical Specialties (ABMS) as well as the American Medical Association (AMA). Board-certified ophthalmologists must also update their certifications every 10 years to remain up-to-date with the latest technology and techniques in the field. Due to their additional training and adherence to strict safety standards, a board-certified ophthalmologist can often provide patients with superior care and deliver consistent results.
For more information, or to schedule a consultation with Dr. Sumsion, please contact Riverside EyeCare today.