Riverside EyeCare is Proud to Be Redding's Only LASIK Provider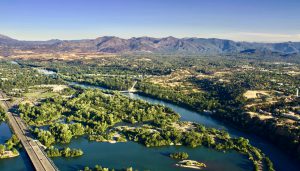 Are you searching for a LASIK provider you can trust? If you live in or around Redding, you don't need to look any further than Riverside EyeCare! Our board-certified ophthalmologists—Michael Sumsion, MD and Sean Sumsion, MD—have extensive experience successfully performing state-of-the-art LASIK techniques and provide high-quality, vision care services to all our patients. Over the years, LASIK has become an extremely popular and reliable way to improve vision and reduce reliance on corrective eyewear. We are honored to be able to help patients achieve their vision goals with a strong emphasis on safety and successful outcomes.
At every stage of the LASIK process, our team strives to ensure you feel welcomed, supported, safe, and well-cared for. Each LASIK procedure begins with a comprehensive evaluation to determine whether you are a good candidate for treatment. This is a very important step as determining candidacy is a critical key to delivering optimal results with minimal risks and complications. If you are a candidate, you will be thoroughly educated about the procedure, including how to prepare for LASIK, what to expect during the procedure, and how to care for your eyes after surgery. For your convenience, all LASIK procedures are performed right here in our fully equipped, state-of-the-art surgery center. The treatment process is quick and you can feel secure in the abilities of our entire team as they guide you through each phase of care.
Our goal is to help you feel as confident as possible about your decision to undergo LASIK at our practice. Our LASIK patients are very satisfied with the high level of care they receive and many refer their friends and family members to Riverside EyeCare after their procedure. We encourage you to check out our online ratings and reviews to learn more about our patients' LASIK experiences at Riverside EyeCare—we currently have 5-star average ratings across all of the top review platforms!
Want to learn more about LASIK at Riverside EyeCare?
Please contact our office today to schedule your consultation. Our knowledgeable team is ready to answer your questions and get you started on the way to clear vision.