Redding Eye Doctors Discuss Cataract Awareness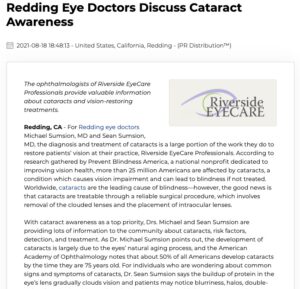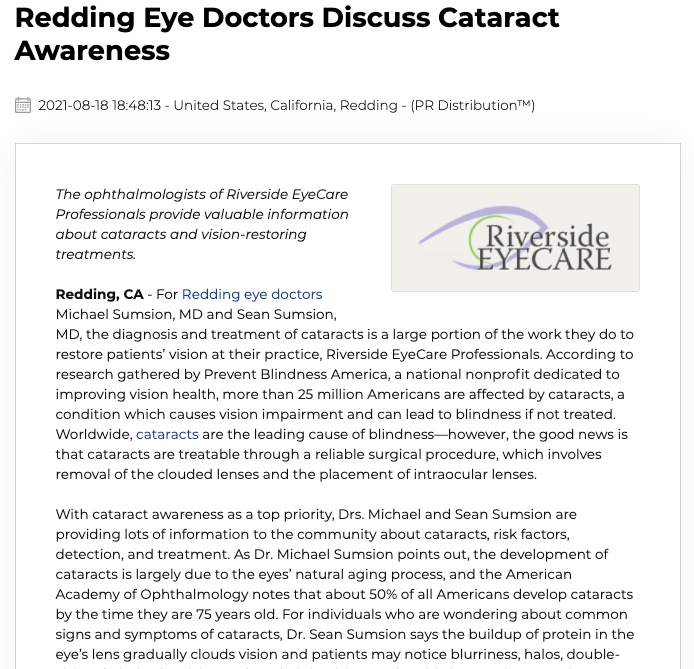 The ophthalmologists of Riverside EyeCare Professionals provide valuable information about cataracts and vision-restoring treatments.
Redding, CA – For Redding eye doctors Michael Sumsion, MD and Sean Sumsion, MD, the diagnosis and treatment of cataracts is a large portion of the work they do to restore patients' vision at their practice, Riverside EyeCare Professionals. According to research gathered by Prevent Blindness America, a national nonprofit dedicated to improving vision health, more than 25 million Americans are affected by cataracts, a condition which causes vision impairment and can lead to blindness if not treated. Worldwide, cataracts are the leading cause of blindness—however, the good news is that cataracts are treatable through a reliable surgical procedure, which involves removal of the clouded lenses and the placement of intraocular lenses.
With cataract awareness as a top priority, Drs. Michael and Sean Sumsion are providing lots of information to the community about cataracts, risk factors, detection, and treatment. As Dr. Michael Sumsion points out, the development of cataracts is largely due to the eyes' natural aging process, and the American Academy of Ophthalmology notes that about 50% of all Americans develop cataracts by the time they are 75 years old. For individuals who are wondering about common signs and symptoms of cataracts, Dr. Sean Sumsion says the buildup of protein in the eye's lens gradually clouds vision and patients may notice blurriness, halos, double-vision, faded color vision, reduced night vision, and rapid changes in corrective eyewear prescriptions. He says those who are experiencing these types of vision concerns should see their ophthalmologist right away for an examination to determine if cataracts may be the cause.
As experienced, board-certified ophthalmologists, Drs. Michael and Sean Sumsion emphasize the importance of exploring treatment to restore vision once a cataract diagnosis has been received. They explain that many patients are relieved to learn how routine cataract surgery is, as well as how successful their results can be with the use of advanced techniques and today's intraocular lenses (IOLs). "At Riverside EyeCare Professionals, we perform cataract surgery in our in-office surgical suite and utilize the full range of IOL options to provide patients with high-quality vision improvements at every budget," Dr. Michael Sumsion says. He adds, "Patients can choose from many different monofocal and multifocal lenses to suit their vision needs and lifestyle. The benefit of multifocal lenses is that they can improve vision at any distance, offer greater visual freedom, and often reduce reliance on glasses following the procedure."
"When cataract surgery is performed by a qualified and experienced eye surgeon who frequently performs the procedure, the results can be life-changing," says Dr. Sean Sumsion. He goes on to add that many times, patients are able to notice improvements in the vision as soon as one day after surgery, and these results typically continue to improve over the weeks and months ahead. For anyone who is concerned about cataracts affecting their vision or who has been diagnosed with cataracts, Drs. Michael and Sean Sumsion point out that prompt treatment can be an important advantage. "There is really no need to delay getting an examination and exploring your treatment options, as putting off treatment can lead to a problematic degree of vision impairment and mature cataracts can make the procedure more complex," they say.
At Riverside EyeCare Professionals, Drs. Michael and Sean Sumsion take great satisfaction in helping patients improve their vision and quality of life. Ultimately, they hope that anyone who needs vision correction finds a practice and ophthalmologist they can trust to provide high-quality, state-of-the-art care for a wide range of needs.
About Riverside EyeCare Professionals
Since 1990, Dr. Michael Sumsion has been practicing in Redding, opening his private practice—Riverside EyeCare Professionals—in 1997. Dr. Michael Sumsion has more than 20 years of experience treating a variety of eye conditions with state-of-the-art technology, advanced techniques, and innovative procedures. Today, Riverside EyeCare Professionals is led by board-certified ophthalmologists Michael Sumsion, MD and Sean Sumsion, MD. At the practice, both eye doctors offer a wide variety of services, including cataract surgery, glaucoma treatment, LASIK laser vision correction, and corneal transplants. Optometry and optical services are provided on the second floor of the Park Marina office inside Riverside Optical. The doctors are available for interview upon request.
For more information about Riverside EyeCare Professionals and Riverside Optical, please visit recp-eyemd.com, facebook.com/RiversideEyeCareProfessionals, and @riversideoptical on Instagram.
Contact:
Riverside EyeCare Professionals
2801 Park Marina Drive
Redding, CA 96001
(530) 244-2273
Rosemont Media
(800) 491-8623
www.rosemontmedia.com