Redding Eye Surgeon Announces Arrival of FDA-Approved TECNIS® Symfony Intraocular Lenses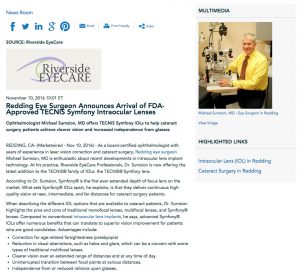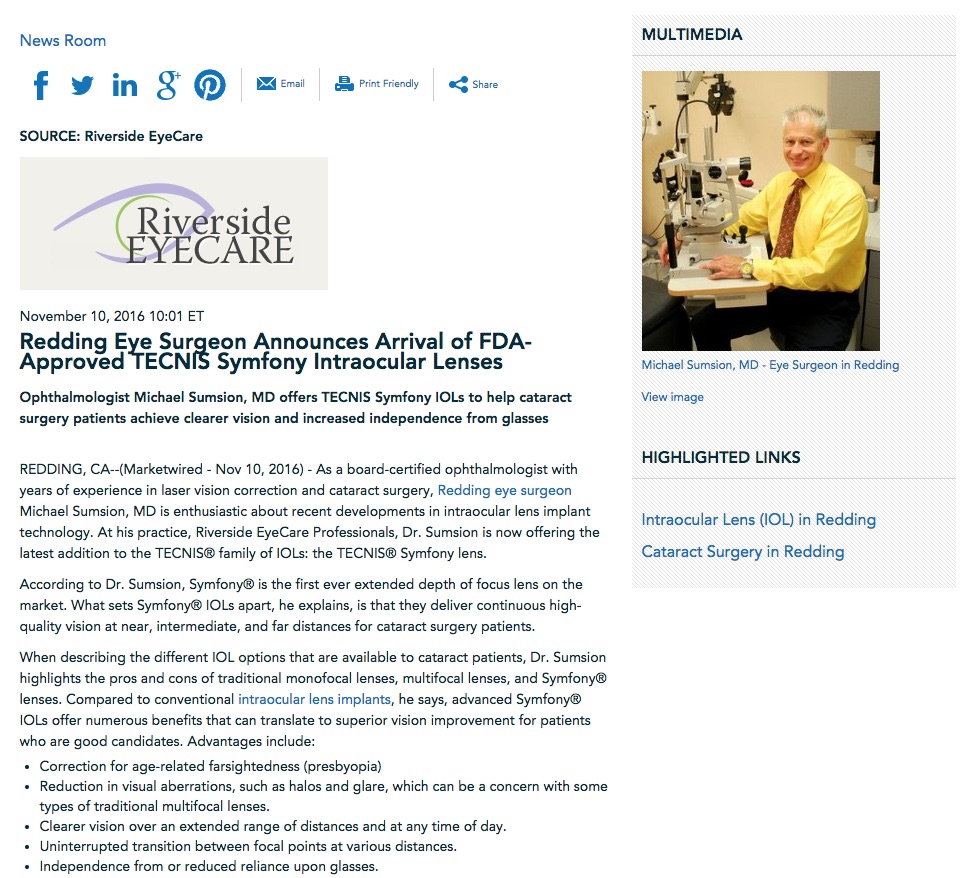 Ophthalmologist Michael Sumsion, MD offers TECNIS® Symfony IOLs to help cataract surgery patients achieve clearer vision and increased independence from glasses.
Redding, CA – As a board-certified ophthalmologist with years of experience in laser vision correction and cataract surgery, Redding eye surgeon Michael Sumsion, MD is enthusiastic about recent developments in intraocular lens implant technology. At his practice, Riverside EyeCare Professionals, Dr. Sumsion is now offering the latest addition to the TECNIS® family of IOLs: the TECNIS® Symfony lens.
According to Dr. Sumsion, Symfony® is the first ever extended depth of focus lens on the market. What sets Symfony® IOLs apart, he explains, is that they deliver continuous high-quality vision at near, intermediate, and far distances for cataract surgery patients.
When describing the different IOL options that are available to cataract patients, Dr. Sumsion highlights the pros and cons of traditional monofocal lenses, multifocal lenses, and Symfony® lenses. Compared to conventional intraocular lens implants, he says, advanced Symfony® IOLs offer numerous benefits that can translate to superior vision improvement for patients who are good candidates. Advantages include:
Correction for age-related farsightedness (presbyopia)
Reduction in visual aberrations, such as halos and glare, which can be a concern with some types of traditional multifocal lenses.
Clearer vision over an extended range of distances and at any time of day.
Uninterrupted transition between focal points at various distances.
Independence from or reduced reliance upon glasses.
He also points out that Symfony® is available in a toric version for patients with astigmatism.
Symfony® has proven to be a very popular option among those who have received the lenses during cataract surgery, says Dr. Sumsion. Clinical studies have reported rates of satisfaction as high as 97%, with patients claiming they would choose to have the lens implanted again. He encourages individuals who are considering cataract surgery to explore all of their IOL options with their surgeon and ask about whether or not TECNIS® Symfony lenses may be right for them.
About Michael Sumsion, MD
Board-certified ophthalmologist Michael Sumsion, MD has been practicing in Redding since 1990, and opened Riverside EyeCare Professionals in 1997. In his more than 20 years of experience, he has treated a variety of eye conditions with state-of-the-art technology, advanced techniques, and innovative procedures. At his practice, Dr. Sumsion offers a wide variety of treatments and services, including cataract surgery, LASIK laser vision correction, glaucoma treatment, and corneal transplants. He is an active member of several prominent professional organizations, including the American Medical Association, the American Society of Cataract and Refractive Surgery, and the American Academy of Ophthalmology. Dr. Sumsion is available for interview upon request.
For more information about Dr. Sumsion and Riverside EyeCare Professionals, please visit recp-eyemd.com.
Contact:
Riverside EyeCare Professionals
2801 Park Marina Drive
Redding, CA 96001
(530) 244-2273
Rosemont Media
(858) 200-0044
www.rosemontmedia.com