Redding Eye Surgeon Corrects Vision Impairments With LASIK Alternative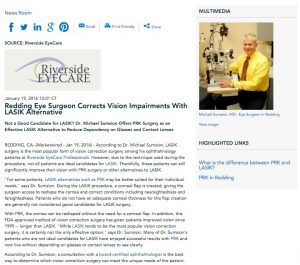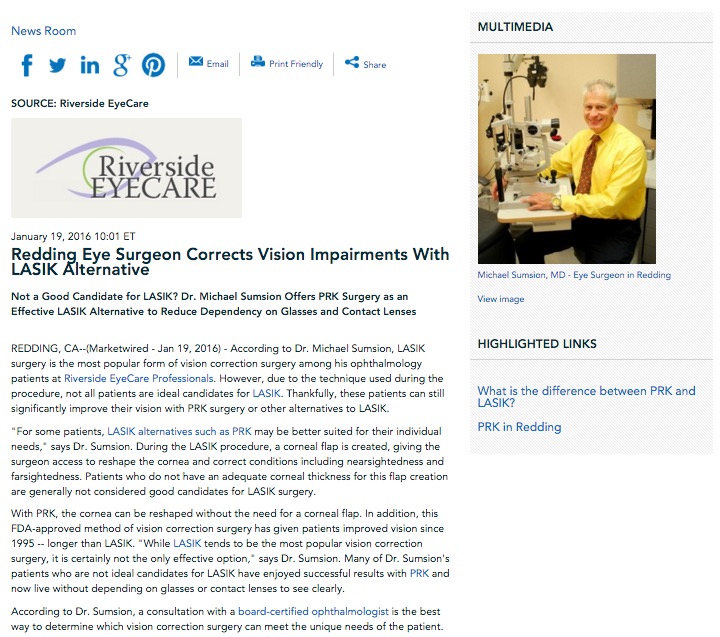 Not a good candidate for LASIK? Dr. Michael Sumsion offers PRK surgery as an effective LASIK alternative to reduce dependency on glasses and contact lenses.
Redding, CA – According to Dr. Michael Sumsion, LASIK surgery is the most popular form of vision correction surgery among his ophthalmology patients at Riverside EyeCare Professionals. However, due to the technique used during the procedure, not all patients are ideal candidates for LASIK. Thankfully, these patients can still significantly improve their vision with PRK surgery or other alternatives to LASIK.
"For some patients, LASIK alternatives such as PRK may be better suited for their individual needs," says Dr. Sumsion. During the LASIK procedure, a corneal flap is created, giving the surgeon access to reshape the cornea and correct conditions including nearsightedness and farsightedness. Patients who do not have an adequate corneal thickness for this flap creation are generally not considered good candidates for LASIK surgery.
With PRK, the cornea can be reshaped without the need for a corneal flap. In addition, this FDA-approved method of vision correction surgery has given patients improved vision since 1995—longer than LASIK. "While LASIK tends to be the most popular vision correction surgery, it is certainly not the only effective option," says Dr. Sumsion. Many of Dr. Sumsion's patients who are not ideal candidates for LASIK have enjoyed successful results with PRK and now live without depending on glasses or contact lenses to see clearly.
According to Dr. Sumsion, a consultation with a board-certified ophthalmologist is the best way to determine which vision correction surgery can meet the unique needs of the patient. With a thorough eye exam, a comprehensive review of the patient's medical history, and a discussion of the patient's individual goals, he says the surgeon can create a customized treatment plan for optimal results.
About Michael Sumsion, MD
Dr. Sumsion is a board-certified ophthalmologist and has been practicing in Redding, CA since 1990. Specializing in the treatment of a wide variety of eye conditions – including cataracts, nearsightedness, farsightedness, and dry eye – he uses state-of-the-art technology and techniques to achieve long-lasting results. Dr. Sumsion also specializes in vision correction surgery, including cataract surgery, LASIK laser vision correction, PRK, and Refractive Lens Exchange. He currently serves as an active member the American Medical Association, the American Academy of Ophthalmology, and the American Society of Cataract and Refractive Surgery.
For more information about Dr. Sumsion and his practice, please visit recp-eyemd.com.
Contact:
Riverside EyeCare Professionals
2801 Park Marina Drive
Redding, CA 96001
(530) 244-2273
Rosemont Media
(858) 200-0044
www.rosemontmedia.com