Ophthalmologist vs. Optometrist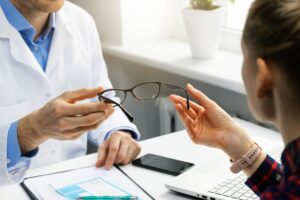 At Riverside Eyecare, our team is comprised of board-certified ophthalmologists Dr. Michael Sumsion and Dr. Sean Sumsion, as well as our optometrist Dr. Jordan Evans. Many individuals may not realize that there are several distinctions between the fields of ophthalmology and optometry, so let's elaborate on the differences among them and the two very important roles our experienced eye doctors have at our practice. 
Ophthalmologist: An ophthalmologist will have earned a medical degree from a medical institution, followed by an internship and a three-year residency. Ophthalmologists are medical doctors specializing in vision and eye care. They can diagnose eye conditions and perform virtually all types of surgery relating to the eye. The services that ophthalmologists can provide include, but are not limited to: cataract surgery; glaucoma surgery; corneal transplants; refractive surgery; eyelid surgery; and diabetic retinopathy treatment. They also routinely perform eye exams and can prescribe and fit contact lenses and eyeglasses. 
Optometrist: An optometrist will have earned an optometry degree from a four-year program after undergraduate education. At most eye care practices, optometrists often provide services such as eye exams, vision tests, and management of certain kinds of eye conditions, such as glaucoma and macular degeneration. They also routinely prescribe eyeglasses and contact lenses. Optometrists are a key part of an eye care practice and typically work in conjunction with ophthalmologists. Our optometrist, Dr. Evans, provides numerous services at Riverside Optical, which is our shop dedicated to offering the latest in eyewear, frames, contact lenses, and disease management. 
At practices like ours, ophthalmologists and optometrists work together to provide the best possible care to their patients. If you have additional questions, or if you would like to schedule an appointment, please contact our practice today. Our doctors offer a comprehensive array of treatments and services designed to enhance your vision and promote the best possible eye health.