How Long is the Recovery After Cataract Surgery?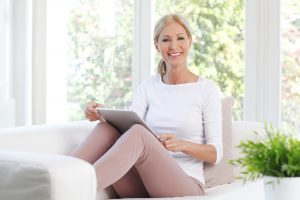 Generally speaking, cataract surgery is a quick procedure that can result in minimal recovery time. Most patients are able to return to their usual activities one or two days after their procedure. Vision typically becomes clearer either within a few hours of the surgery or a couple of days, depending on how long it takes the eye to adjust to the new intraocular lens (IOL). Since cataract surgery is performed one eye at a time (if you require treatment of both eyes), the procedures will be spaced apart approximately two weeks to ensure adequate healing.
To aid in the healing process, it is important to follow all of Dr. Michael Sumsion's post-operative care instructions. The guidelines he provides can help minimize the potential for complications and promote a swift recovery:
Refrain from intensive activity and lifting heavy objects for a few weeks.
Do not rub your eye.
Do not drive on the first day after your procedure.
Move carefully so that you do not run into things while you are recovering.
Keep your eye protected from particles and foreign objects.
Do not submerge your eye in water during the first week.
Adhere strictly to the post-op drop schedule.
Dr. Sumsion will want to see you soon after your procedure and at various points in the recovery process to check on your healing and vision improvement. The exact post-operative appointment schedule will be provided for you on the day of your surgery.
For more information about cataracts and cataract surgery, contact our practice to schedule an appointment with Dr. Sumsion.